On the Korea front... One might keep an eye on how the US plays it's hand on this smoke...
North Korea suspected of restarting Yongbyon nuclear reactor
Satellite imagery shows reactor capable of producing plutonium for weapons is likely to be operating, says US research institute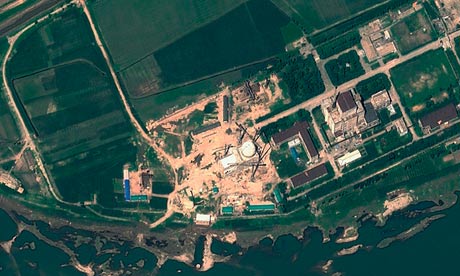 North Korea appears to have restarted a reactor capable of producing weapons-grade plutonium, according to analysis of satellite imagery and a US official.
White steam can be seen rising from a building near the hall housing steam turbines and electric generators at Yongbyon nuclear complex in an image taken on 31 August, said the US-Korea Institute at Johns Hopkins School of Advanced International Studies.
As in this time period... It will not take much smoke to get a bomb to go off... as tension run high... and nukes are at stake.
Plus, I have been informed through dreams that a bomb could be going off here to start World War 3 ... in this time period... As weapons of Mass destruction are in play ...
Though it's hard to pick up where as Korea is over 5,500 miles and Israel is over 7,000 miles from my location ... as a chain reaction meltdown ... With so many countries having weapons ... Well, it does not take much to get micro waves ovens to nuke ... Just a key pad as the countdown is my feild of vision is getting set to
Beep Beep
So let's keep an eye on North Korea news too.