Today
This reminds me of Pearl Harbor B4 - D7
I see a couple beeps off to the side of US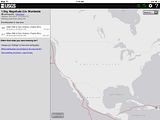 WAT -... NO FRICKING FRACKING EQ REPORTED ANYWHERE?
I just received this message in my PM box ...
... and like to address it for all to see...
First, Search my History (post) ... I've been saying it a while now... yes another prophetic dreamer had a dream of a H-bomb going off in the U.S. (He predicted 3 months / March of 2016) ... and I prayed over it to see
WAT ... and received a dream - "Oklahoma Code" ... I stated by summer this would happen)
... this is going to be a pre-quake (predicted May 20/21) of what I saying is a 5 magnitude or greater... but I just received a dream... of a nice bar stool chair, and it legs have been cut short ( deliberately ) ... as these are Man Made Quakes... so if you look at some of my post... I have stated "fishy numbers" by the USGS ... (Which I reported to the FBI to investigate 3 times now by mail.. 4/19 - 5/3 - 5/11)
My "Gus Who" position ... I claim to be a prophetic dreamer ... and being raised Catholic, but now consider myself 'independent' from any one church... but Christian through the Spirit (
Batman / batty into Holy Ghost ... )
Back in 1997, I received a 'Waking Vision' of 911 which I called "Twisted I Beam" ... that lead me to play in this dream field... as I try not to push religion, as much as kicking a ball ... as I wanted to be a professional athlete as a kid... and this is like playing ball with all the other kids out there ... that can see
the light ball (
)
I am not trying to push the "Fear' as much as point out that 'Oklahoma area' is not aware of the Mega Quake ... and growing up in the Bay Area / Calif. ... and dealing with "Corrupt Government' ... well I am pointing out a 'disaster in the making'
Yes this MEGA QUAKE should be reffered to the Bible Quake as ' = too The Great And Awful Day of the Lord' ... as this Quake is Man-Made and has been prophecied to warn everyone of how corrupt MAN has become with ... Fricking Fracking ...
THERE IS NO BIG SECRET ... GET IN TUNE WITH THE BALL!